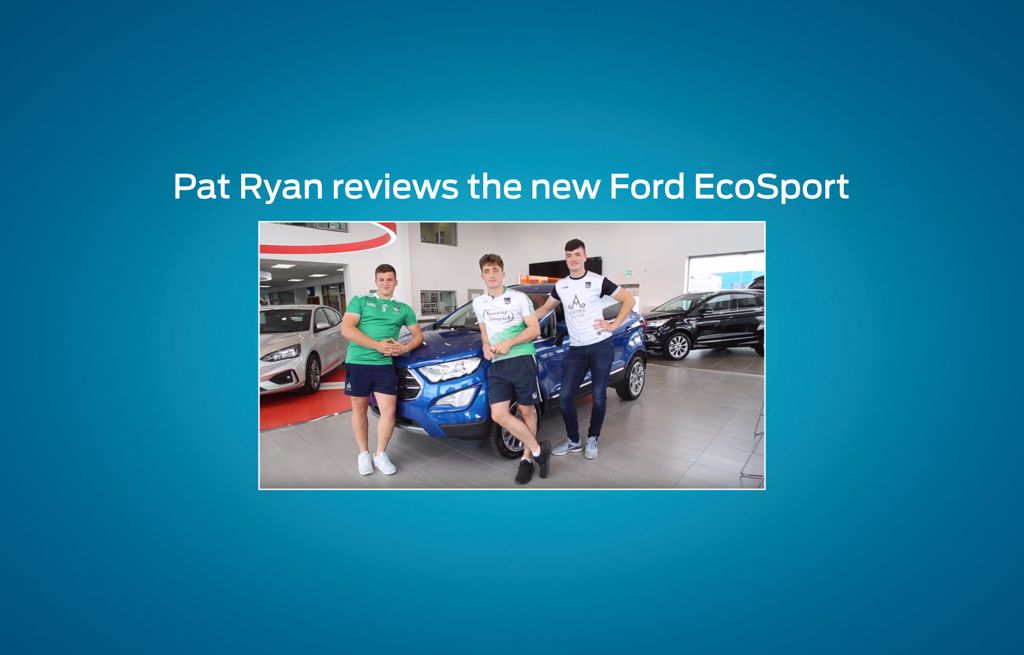 Pat Ryan reviews the new Ford EcoSport
Lyons of Limerick had the pleasure to welcome Pat Ryan with Mike Casey and Kyle Hayes of the Limerick Senior Hurling Team, to celebrate the exclusive offers on the EcoSport and Limerick being in the Semi Final this weekend.
Pat Ryan had fun test driving the New EcoSport and has shared his experience in the video below:
Pat Ryan describes the EcoSport as "stunning" and that "it has everything you need and more".
The new EcoSport has a 1.0 Ecoboost petrol engine, which "gives you the same power as a 1.6 liter engine". Features that Pat Ryan points out are the huge glove box, "which can hold absolutely everything you need" and the rear view camera which "shows whatever or whoever is behind you". Furthermore, he really appreciates the heated seats and steering wheel that are "nice on a cold night on the way to training" .
Lyons of Limerick are giving you a fantastic 7 years free warranty, 7 years road side assistance and 3 years free motor tax!
Want to experience New EcoSport yourself?
Get in contact with us today or come in to our showroom to experience it yourself.
We have a Limerick Jersey signed by Kyle Hayes, Mike Casey and Pat Ryan to give away if you like and share this video.
Call Us Email Us Book a Test Drive
#lyonssupportingsport